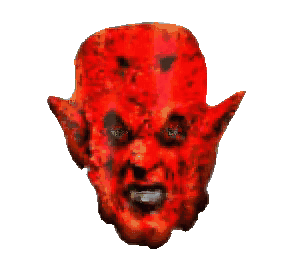 GREETINGS HUMAN! I have been summoned here from deep within the pits of HELL to give you a tour of this site.
Don't be alarmed! There is lots to do in the DESPAIR ZONE!..................
Why don't you take a look in the DREAMZONE and enjoy some light music and carefree scenery? ........... No?
Well if you'd rather come to MY domain to experience eternal suffering in HELLWORLD, the ghouls down there can show you a thousand lifetimes of pain and torment at NO CHARGE!!!

Do you dare traverse the maze of the CYBERHENGE? BE WARNED! It is not an easytask to learn the forgotten secrets of the CYBER-DRUIDS! But you seem like a fairly observant one. Maybe YOU are the one the prophets have spoken of?......... I seriously doubt it........

Perhaps you would care for a bit of fun? Then take a look at my good friends site TERRY GILES. In TERRY SITE you will get to experience Terry's life, his day to day struggles, and even get to meet some of his family! LUCKY YOU!
Looking for a Good film? Check out the THEATRE for some upcoming attractions! They were so well made, that they in fact removed them from theatres across the NET and banned them from being sold at regular stores!
Looking for a bit of excitement? Nothing quite beats a day out on the RACETRACK! Listen to the howling cries of demon possesed automobiles as they burn through BLOOD BONE AND RUBBER!
If that's not enough for you (and I'm sure it won't be, you pesky humans) then take a look through the MISC GOODS that I've dug up through my travels in the underworld!
Or take a look at some of my other favorite websites and STOP WASTING MY TIME!!!! I've fallen behind on EONS of MISERY and SUFFERING just explaining to you how this site works!